Home
My name is John Duncan also known as JD THE DJ.
I have been providing the ultimate party experience throughout Texas and surrounding areas for over 20 years. My true passion for DJing makes me stand out from the rest.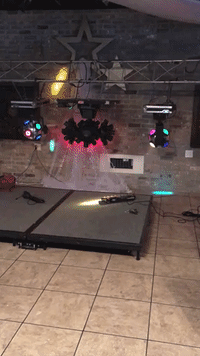 I can DJ any size event or club for all ages. I always provide the absolute highest quality service no matter how big or small the event.  Fellow DJs have said "JD has taken DJing to the next level".
I supply all genres of music for every occasion and can guarantee any song on any playlist.
I have multiple sound systems to work with and I also offer by far the best classic discoteque lighting in this part of the U.S.! Click here to see lights in action.
My collection of unique entertainment lighting will leave


your guests mesmerized. I employ all kinds of lights, from rhythmic chasing lights and rare mirror
balls of the disco days to active green dancing lasers and super bright Italian nightclub
centerpieces.
There is no other person or place ANYWHERE that can offer the type of service I provide!!!  Check out my  equipment page and learn more!
Please shoot me an email or give me a call (ANYTIME!) to check date availability and get a SUPER FAST QUOTE. I love doing what I do.  I put a lot into it and I get a lot out.  Ask my former clients (Recent references are always available.).  I am proud to have worked at/with Cirque Du Soleil, House of Blues, Gilley's Nightclub, Tracy Locke/Pizza Hut, Century 21 DAllas, World Arm Wrestling League, Shreveport Auditorium, atop Cityplace Towers, Sam's Hotel & Casino, La Meridien, Nac's famous Crossroads nightclub, and many many more.
I am happy to say that there is nobody else like me.  I've been doing this a while. (see: 80′s-90′s) Please take a look around my website.  All of the pictures on the website are from actual events I have worked — these aren't just stock photos or pictures poached from around the web like you'll see on other DJ sites.
According to Modern Bride Magazine, only 5% of the average wedding/reception budget will be spent on entertainment.  Over twice as many guests will remember the performance and quality of entertainment than anything else at your reception.